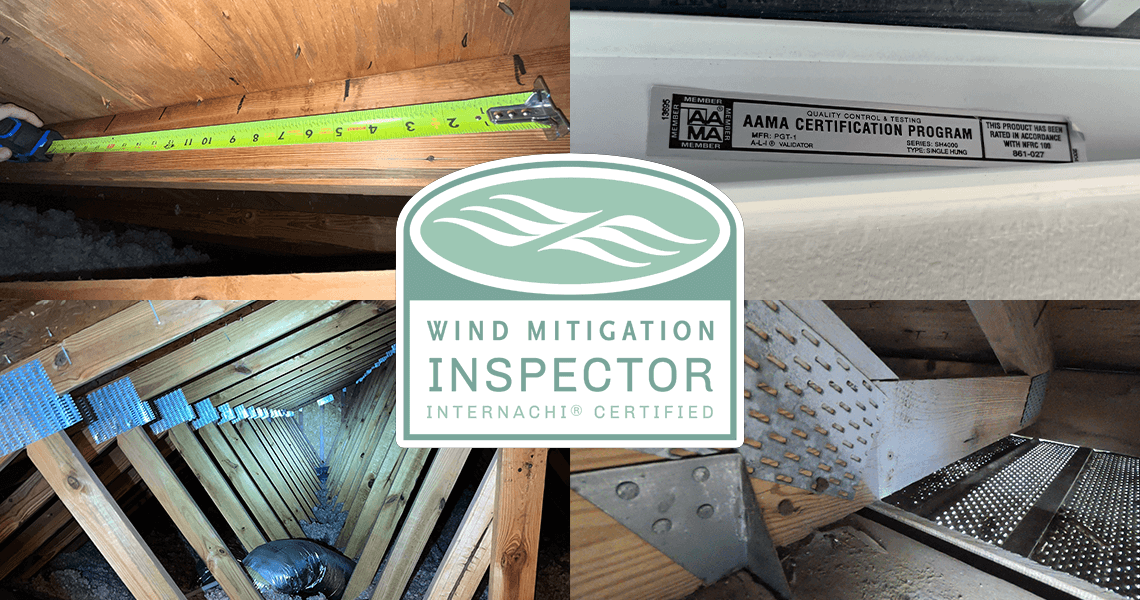 What is a wind mitigation inspection and why do I need one?
In 1992, Hurricane Andrew had devastating affects on the insurance and housing industries. Florida Building Code underwent major updates around 2002/2003 that made significant modifications to the way houses are built. The code changes affected how the roof covering materials (shingles or tiles, for example) are attached. How the deck boards are attached. How the roof structure is secured to the walls of a home.
The Wind Mitigsation inspection checks to see which of these features are implemented in your home. If you've had your roof replaced, what was done to bring your home up to or close to current standards? It's an assessment of risk that does one major thing for you: The more protection your home has to offer, the greater the discounts on insurance.
How long does a wind mitigation inspection take?
The inspection takes about 45 minutes for most homes. We provide our reports same-day whenever possible, but sometimes things take some extra time - Especially if we need to reach out for further documentation, or verify the age/permitting status of certain things.
How much does a wind mitigation inspection cost?
Our cost is $99 for a stand-alone (solo) wind mitigation inspection. If you bundle it with a 4-Point report, our cost is $149. You can Click Here to Schedule an Inspection at any time!
What is my insurance provider or lender looking for?
They want to see that the four major systems in your home are operational, safe, and in good condition. Those would be your Electrical, HVAC, Plumbing, and Roofing systems.
Roofing
How old is the roof? What is it's overall condition?
Is the damage seen normal wear and tear or is the roof end of life?
Depending on when it was installed, does it follow current code for roof installation?
What type of nails are used to secure the deck boards and how many?
What type of nails are used to secure the roof covering materials and how many?
Is the roof a Hip roof, flat roof, or other type of roof?
Is there a waterproofing layer (SWR) between the roof covering material and the deck boards?
Are there any indications of leaks?
Doors / Windows
Do your doors and windows have protection ratings?
If so, what level of protection do they offer? Can they be verified?
Entry doors, garage doors, windows, skylights, and glass block are all checked
Most Popular
4-Point & Wind Combo